This page is the brochure for your selected program. You can view the provided information for this program on this page and click on the available buttons for additional options.
Fordham University Ubuntu Program in Association with the Desmond and Leah Tutu Legacy Foundation
Pretoria, South Africa
(Study Abroad Programs Program)
Featured
General Program Location:
Medium Size City
Academic Setting:
Hybrid Program, Special Focus
Housing:
Apartment
Degree:
Undergraduate
Provider:
Fordham University
Host Institution:
University of Pretoria
Foreign Language Competency:
None
Language of Instruction:
English
Field of Study:
Anthropology, Business, Economics, Education, English, Fine or Applied Arts, Foreign Languages, History, Humanities, International Studies, Political Science, Service-Learning, Social Sciences, Social Work, Sociology, Theatre, Theology
FORDHAM University Ubuntu Program




in Association with the Desmond and Leah Tutu Legacy Foundation
"I am what I am because of who we all are".
"A person with Ubuntu is open and available to others, affirming of others, does not feel threatened that others are able and good, for he or she has a proper self-assurance that comes from knowing that he or she belongs in a greater whole and is diminished when others are humiliated or diminished, when others are tortured or oppressed." - Desmond Tutu
---
In the past few decades, South Africa's transformation has captured the attention of people around the world, and in recent years students have, in increasing numbers, sought educational opportunities abroad in this emerging democratic nation. The vast challenges faced by a society attempting to provide equal access to opportunity and the energy with which South Africans have committed themselves to bring about meaningful changes, provide an ideal environment for a study abroad program. Ubuntu, the Fordham in Pretoria program, offers you a structured and supportive environment for study and engagement with South African people and their history while also offering an array of opportunities to do valuable service and to reflect on your experience.

---
Program Academics
Based at the University of Pretoria, the leading research university in South Africa, and in collaboration with The Jesuit Institute of South Africa, Fordham in Pretoria offers students opportunities to do elective or major work while being active in service learning. Structured reflection sessions throughout the semester allow participants to consider the complexities and challenges facing Pretoria specifically and South Africa generally.
Required Courses
SOCI 3044: Poverty and Community Development taught by Prof. Antoinette Lombard
HIST 3789: Modern South Africa Stories

All participants will take the above mentioned core course, which explores the relevant historical and socio-economic issues impacting the local communities, specific demographics and South Africa. In addition, a required module in Sociology, Poverty, and Human Development provides an overview of the macro socio-economic and political context for development in achieving the United Nations' Millennium Development Goals as well as a forum for considering and analyzing poverty reduction strategies and their relevance in various community settings. From both a theoretical and experiential perspective, Ubuntu students will explore and critically discuss the place and role of participation, capacity building, empowerment and partnerships in sustainable development. They will also consider various ways of approaching community engagement and service-learning activities.

Electives
Each participant will take two additional courses (modules) from one or more of the following departments at the University of Pretoria selected from the following departments Anthropology & Archaeology,
Drama, Economic & Management Sciences, Education, English, Historical & Heritage Studies, International Relations, Journalism, Political Sciences, Social Work & Criminology, Sociology, and Theology.

Ubuntu: University of Pretoria Courses

UP modules of 19 credits and under will transfer as 3 Fordham credits.
UP modules of 20 credits or more will transfer as 4 Fordham credits.
---
Service-Learning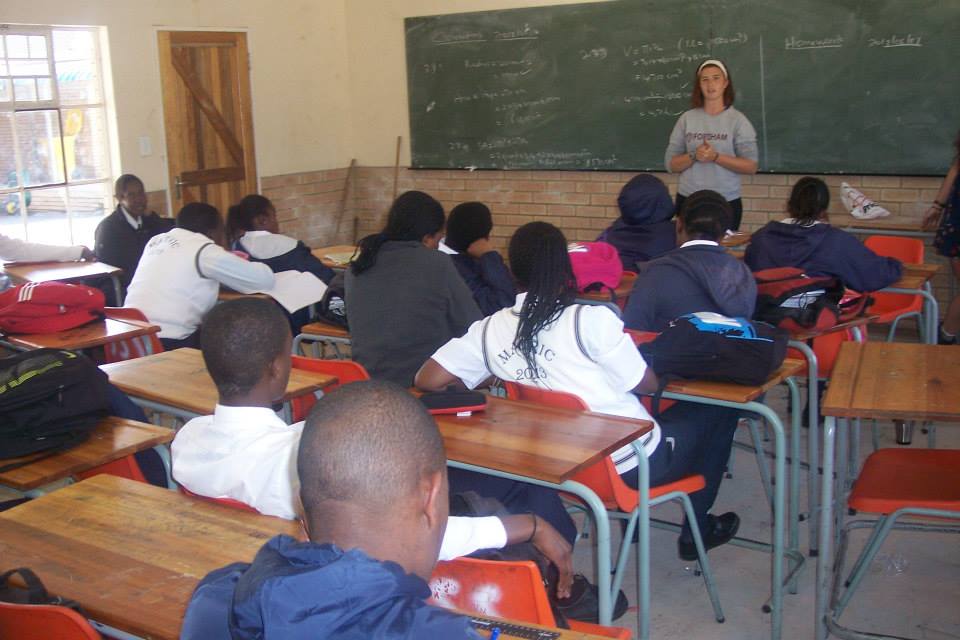 The Service-Learning component of the program will be coordinated by the University of Pretoria. The practice lecturer for the sociology module will work closely with the program's Academic Coordinator to develop schedules that provide participants a once-a-week full-day opportunity to meaningfully engage with the local community and do service of value.

In addition to the regular monthly service-learning reflection sessions, and as a complement to course work done at the University of Pretoria, the program will feature two reflective weekend retreats in North Pretoria as well as weekly one-on-one spirituality sessions designed to encourage participants to consider their academic and service-learning experience, in relation to larger questions about life, justice, faith and personal beliefs. Placement venues include:
Erasmus Community
Erasmus Community is a semi-rural settlement of roughly 10,000 people about an hour away from Pretoria with a community organization led by local residents actively engaged with projects in primary education, computer training, nutrition, childcare, agriculture, bridge building and other construction projects.
Soshanguve
Soshanguve is a township situated next to Erasmus in the Gauteng Province. Although similar to Erasmus in many regards, it does have a wider infrastructure than Erasmus. Soshanguve is characterised as a poor township and its residents are eager to meet new people who want to
work in the community. Students will work alongside qualified social workers from the South African Women Federation (SAWF) that operates in the community. Projects at Soshanguve include Soshanguve South Secondary School where students will have the opportunity to assist and become involved in the schools' guidance program, and SAWF Community library where students will have the opportunity to organise and transform the develop the library.
Future Families
The main mission of the Future Families organization is to provide quality, appropriate and relevant
care to children and families infected by HIV/Aids in the townships of Mamelodi, Eersterust,
Olievenhoutbosch and Sunnyside. Their model of intervention is hailed as very successful in the
communities where Future Families serve and operate because of the large numbers of children
that are involved. Ubuntu students can become involved in Future Families projects through the
following channels: Educational Support, Mama Zama and Groupwork Activities.

Some students develop their own service projects in consultation with program staff and community organizations such as the "Art for Hope" project developed in 2015. For more information about this project, please review the
"Art For Hope" Project Catalogue.
---
Student Services
Orientation
Participants will have a three day orientation when they arrive in Pretoria. With sessions on health and safety, academics, local living, cultural adjustment, and community engagement, the goal of the orientation is to provide all students with information about the program and Pretoria, as well as to discuss their goals and expectations for the program.
Mentor Program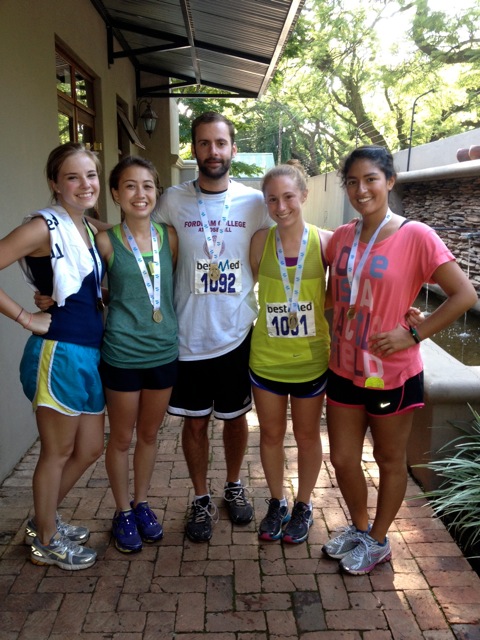 University of Pretoria students will serve as mentors to participants, providing guidance and assistance in a number of areas including academics, logistics, housing and cultural integration. At least two mentors live with students in Hatfield and most of them regularly join program participants in activities and classes.
Housing
Students will live at the Village in Hatfield Guest House. Situated within walking distance of LC De Villiers Sport Centre, The High Performance Centre, Hatfield Square, the University of Pretoria and Loftus Versveld, the Village features two bedroom cottages, each with a private entrance and surrounded by beautiful gardens. All cottages are fully equipped with en-suite bathrooms, TV's and tea/coffee making facilities. The Village also features a heated swimming pool.
Excursions
Throughout the semester, students will participate in a number of field trips and excursions. These will include visits to Soweto and other townships,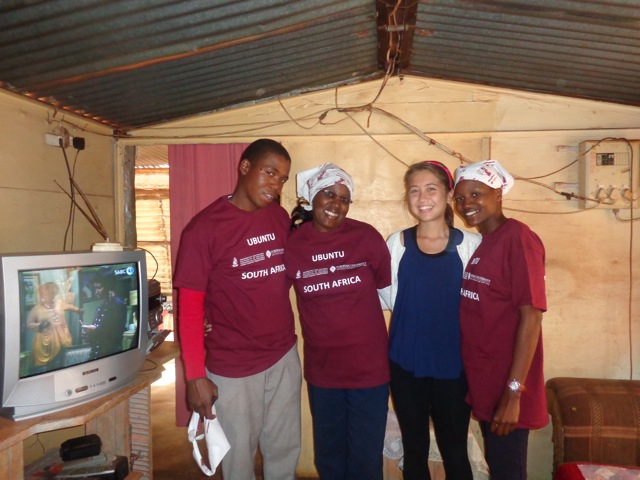 homestays, a safari, as well as local visits to the Apartheid Museum, Nelson Mandela's House in Johannesburg, the Voortrekker Monument and Museum, Freedom Park, the National Zoological Gardens and the Union Buildings. The program also includes a week-long visit to Cape Town and the surrounding areas. This excursion features homestays and visits to nearby Stellenbosch farms and vineyards.
Student Perspective:
Interested in learning more about the Ubuntu program through current participants? Take a look at our
student blog
.
Requirements
Unless otherwise specified Fordham's Pretoria programs are open to undergraduates from any discipline currently seeking a degree at a US institution.

Applicants should be sophomores or juniors during the term in which they will be abroad, have a GPA of 3.0 or higher and a clear disciplinary record.

Students who will be second semester sophomores during the term they will be abroad and who otherwise meet the requirements may apply to study in this program. Sophomore class dean approval will be required.

While not required, it is recommended students have volunteer experience when applying to the Fordham in Pretoria program.

Non-Fordham students should have a conversation with the appropriate persons at their institution about their plans to study abroad with Fordham University.
What impact has your study abroad experience had on your life and studies?
Studying abroad in South Africa changed my life. I understand myself, others, and the world much more deeply because of my experience there. I am happier now, and I have a newfound energy to change the world.
— Canton Winer, Spring 2014
Read what others have said about this program.
Term

Year

App Deadline

Decision Date

Start Date

End Date

Spring

2017

10/01/2016 **

Rolling Admission

TBA

TBA


** Indicates rolling admission application process. Applicants will be immediately notified of acceptance into this program and be able to complete post-decision materials prior to the term's application deadline.