This page is the brochure for your selected program. You can view the provided information for this program on this page and click on the available buttons for additional options.
Fordham in London: London Dramatic Academy
London, United Kingdom
(Study Abroad Programs Program)
Featured
General Program Location:
Major City
Academic Setting:
Island Center-Based Program, Special Focus
Housing:
Dorm
Degree:
Undergraduate
Provider:
Fordham University
Host Institution:
Fordham London Centre
Foreign Language Competency:
None
Language of Instruction:
English
Field of Study:
Fine or Applied Arts
LONDON DRAMATIC ACADEMY
Conservatory Acting Program
LDA was an incredibly fulfilling and enlightening experience for me. Every class, faculty member, and fellow classmate helped me grow into a better and stronger actor, student, and person and I will be forever grateful. LDA is more than an excellent acting program, it is a family away from home.
-Minou Clark
The LDA Conservatory Acting Program is for Study Abroad students who wish to train as actors in London, UK for one semester. The training is based on the curriculum and practices of the great British Classical training academies.The unique program is taught by working professionals, many of whom also teach in the very best of the London Drama Schools.



Program Academics
Training as an actor involves daily physical and acting classes such as Acting Shakespeare, Period Dance, Physical Theatre, Voice, Speech/Dialects, Acting, Stage Combat , Movement, etc, generally from 9-5pm. Weekly classes include Theatre History, Literature and Dramatic Criticism, based on regular theatre and site visits and other cultural activities. You will have one-on-one meetings with the program director, and be required to write in a reflective journal. You will have the chance to meet theatre professionals and other experts in the field, and participate in a
unique curriculum
.
You will enroll in the following classes:
LODA 3010: ACTING [6 credits]
(Classes include: Acting; Acting Shakespeare; Audition Tutorials)
LODA 3020: THEATRE HISTORY, LITERATURE & CRITICISM [3 credits]
(Classes include: Space, Place & Text; Dramatic Criticism)
LODA 3030: PHYSICAL TRAINING FOR ACTORS [4 credits]
(Classes include: Movement; Physical Theatre; Stage Combat; Period Dance; Alexander Technique)
LODA 3040: VOICE TRAINING FOR ACTORS [3 credits]
(Classes include: Voice; Speech/Dialects)
Studying in London
Location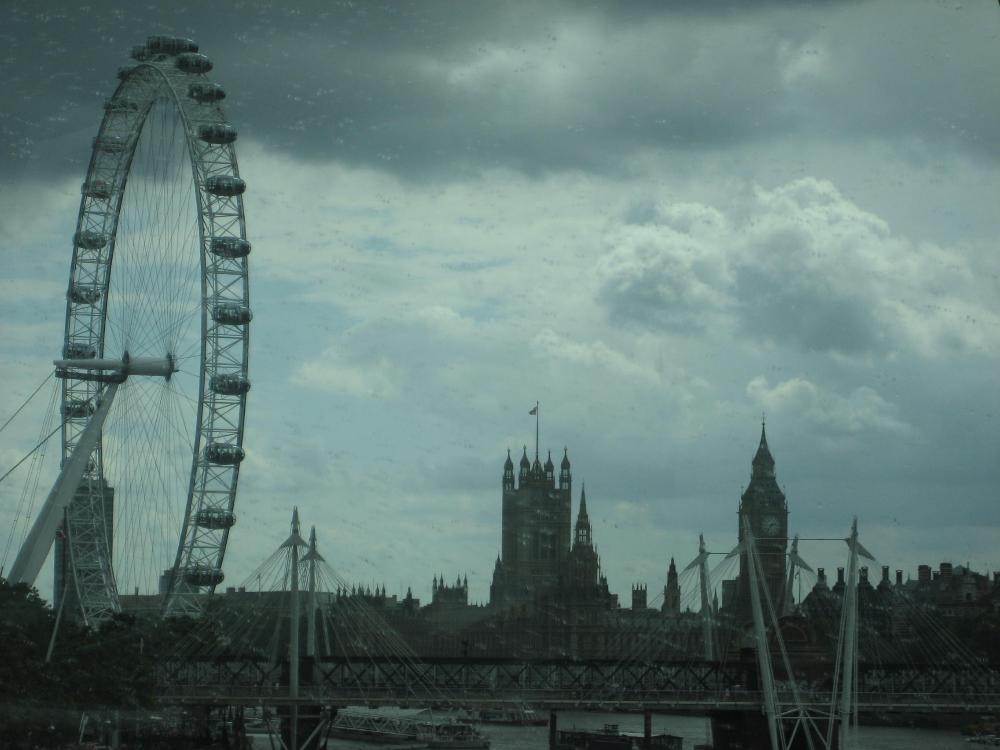 The London Dramatic Academy is located at 23 Kensington Square, in one of the most charming areas of London. Centrally located, near museums such as the Victoria and Albert, the Science, and the Natural History, LDA shares its premises with Heythrop College, the philosophy and religion school of the University of London. We have large studios, a library, and smaller rooms for tutorial work. Fordham business and liberal arts students have programs and classes at the London Centre and we share events and activities when appropriate. We are five minutes from the High Street Kensington underground station. Our full-time academic coordinator and office staff are on site to oversee housing, orientation, counseling, events, and activities for all students.
A series of informed guided walks will help you find your feet in London and meeting for social events with other Fordham study abroad students establishes a small friendly campus feel. There are a minimum of twelve exciting theater visits including Stratford (RSC), the National Theatre and the Globe. Masterclasses enrich the program and LDA endeavours to introduce you to classical, contemporary and unusual theatre along with some of the nooks and crannies of the great city of London.
Housing
Fordham University reserves rooms and flats for students in various centrally-located neighbourhoods with providers who specialize in student housing. LDA students are housed particularly close to campus due to their full timetable of classes at the Centre.
Program Director
Kathryn Pogson, Program Director: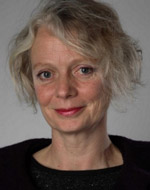 Kathryn Pogson trained at Drama Centre. Theatre credits/leading roles include The Arbor and Aunt Dan and Lemon (OBIE Award) at the Royal Court, London, and Public Theatre, N.Y. For the Royal Shakespeare Company: A Midsummer Night's Dream and The Balcony. London's West End: Richard II, Richard III, and Hamlet. The Globe: Merchant of Venice.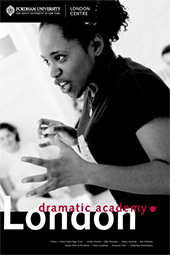 Student Perspective
The London Dramatic Academy was literally a life-changing experience. The program provides extensive tools for auditioning, character building, and tackling Shakespearean texts in a generous and loving environment. I had talented and experienced teachers who gave me practical advice about the business. After attending London Dramatic Academy I feel much more confident and prepared for auditions, rehearsal processes, and performances. The program takes very good care of its students while at the same time challenging them to take risks in their work. The program allows and encourages exploration of the self as an actor as well as a person. I have always wanted to go to London, and London Dramatic Academy was the best way to experience it. I especially appreciate the love and care I received from Katherine Pogson, our acting teacher and interim-director. Her warmth, wisdom, and vibrancy made the program all the better. - Madeleine Phillips (Spring 2014)
Learn more from students who have studied on the LDA program by checking out this
blog
!
Requirements
Entry to the London Dramatic Academy is usually limited to 24 in each semester, Fall and Spring so we strongly encourage you take advantage of our Early Action Deadlines.
Fordham's London Dramatic Academy program is open to undergraduates majoring or minoring in Theatre.
Applicants should be Sophomores or Juniors during the term they will study abroad, have completed significant coursework in their major fields of study, have a GPA of 3.0 or higher, and a clear disciplinary record.
All applicants must complete the online Fordham Study Abroad Application by clicking on the "Apply Now" Button above and submitting an audition.
We welcome applicants from colleges and universities outside of Fordham University.
Auditions
Please perform any extract, no longer than 2 ½ minutes in length, chosen from any of Shakespeare's plays. Please note that since Hamlet, A Midsummer Night's Dream, Romeo and Juliet, and Twelfth Night are all too familiar, we encourage applicants to focus on other plays. It is always advisable to choose a less, rather than more, familiar. (If you need any suggestions, see our list with a number of Speeches from suitable plays.)
You must meet the minimum academic requirements for admission to LDA before an audition will be scheduled.
Applicants are required to audition either in person or by submitting a recording.
Recording the Audition
Recorded auditions need to be submitted together with the application, in the form of online video (or DVD). Please make sure that your recording runs no longer than 10 minutes and that the picture and sound are of good quality.
The recorded audition must contain the following:
A brief introduction to yourself as well as some words about your reasons for applying to the LDA and what you hope to bring to the program.
A brief monologue from a Shakespeare play - 2 ½ minutes.:
When recording an audition, don't forget: the simpler the background and your costume, the less it distracts from your performance.
In-Person Audition
In some cases in-person auditions can be arranged with an LDA associate, please contact LDA@fordham.edu for details.
Costs
Per Term Program Fee in Academic Year 2014-2015: $28,725
Tuition - $22,225
Non-Academic Fee - $6,500
Comprehensive LDA fees include: tuition, registration and instructional costs for up to 16 credit hours; official transcript for credit transfer; housing in London; pre-departure information and materials; supplemental travel insurance; full-time academic and administrative support services through our London Centre; course theatre tickets; and various social and cultural activities. Group transfer from London Heathrow airport on a date and time yet to be determined is also included in the comprehensive fee.
LDA's rich curriculum is complemented by an excellent theatre and cultural activities program. Once a week for 14 weeks LDA participants attend professional theatre productions as well as various cultural visits; and during the term they also participate in two all day excursions outside of London. While the program varies from semester to semester, most recently students had seen productions at the National Theatre, Tricycle Theatre, the Royal Festival Hall, the Rose Theatre in Kingston, just to name a few, went on a guided tour of the British Library and Middle Temple, and enjoyed day trips to Stratford-upon-Avon. In addition, LDA's home at Heythrop College, offers participants wonderful opportunities the cultural treasures Kensington has to offer - Kensington Palace, the Royal Albert Hall, the Victoria & Albert Museum, the Natural History Musem are only minutes away from our Centre!
*Please note that, though highly unlikely, all program related items - including fees and pogramme itinerary - are subject to change and revision.
Financial Aid
Fordham students may apply their financial aid to the LDA program. Depending on the home institution's policy, non-Fordham students can, in most cases, apply their ongoing financial aid award towards study abroad via a consortium agreement. The Financial Aid Office at your home institution can provide information about transferring institutional scholarships as well as grants, loans and procedures for applying.
LDA Scholarship
Fordham University offers a limited number of Scholarships for LDA participants from outside schools-
LDA Scholarship Application.pdf
. Please contact the LDA Coordinator at LDA@fordham.edu for further information.
Estimated Living Costs in London
From past semesters' experience, the London Centre recommends that participants budget approximately $5,500 - $6,000 per semester. Our budget estimates are as follows: $2,500 for food, $1,750 for travel (flight and local travel), $200 for books and $1,500 for other personal expenses.
Fordham University reserves rooms and flats for students in various centrally-located neighbourhoods with providers who specialise in student housing. LDA students are housed particularly close to campus due to their full timetable of classes at the Centre. Each flat is equipped with a kitchen, living/dining room, and two or three shared bedrooms. Students may be housed with Richmond University in Kensington; those students have access to a meal plan. The choice of accommodation is made by the director of LDA depending upon availability.
What impact has your study abroad experience had on your life and studies?
Firstly, being able to living in a foreign country for a few months opens your eyes to another culture. I felt immersed in the daily lifestyle of a London student. I honestly wish that the LDA program was a year long...or a four year program. I left that program feeling more confident in my school work, and feeling like I can continue to do well in my studies going into senior year. I has further encouraged me to pursue a career in theatre, but it has really helped me learn how important it is to maintain one's mental and physical health. I have gained an greater appreciation for and a newfound love for classic works. It opened my eyes to looking at theatre more critically, and not just focusing on the acting in a production. I became more aware of how my body moves throughout the day, how I use my voice, and how I use my brain.
— Amber Avant, Spring 2014
Read what others have said about this program.
Term

Year

App Deadline

Decision Date

Start Date

End Date

Fall

2015

03/01/2015

03/08/2015

08/26/2015

12/05/2015

Spring

2016

10/01/2015

10/15/2015

01/07/2015

04/19/2015

NOTE: Dates provided are tentative only. Please confirm with program administrator.


Indicates that deadline has passed