This page is the brochure for your selected program. You can view the provided information for this program on this page and click on the available buttons for additional options.
Fordham in London: London Liberal Arts
London, United Kingdom
(Study Abroad Programs Program)
Featured
General Program Location:
Major City
Academic Setting:
Hybrid Program, Special Focus
Housing:
Apartment
Degree:
Undergraduate
Provider:
Fordham University
Host Institution:
City University, Fordham London Centre, Queen Mary College, University of Westminster
Foreign Language Competency:
None
Language of Instruction:
English
Field of Study:
Arabic, Communication, Computer Science, Creative Writing, Economics, Engineering, English, Fashion Studies, Fine or Applied Arts, Foreign Languages, French Studies, German Studies, History, Humanities, International Political Economy , International Studies, Italian Studies, Literature, Mandarin Chinese, Mathematics, Media Studies, Middle East Studies, Music, Phyisical or Life Sciences, Political Science, Pre-Law, Psychology, Russian, Social Sciences, Sociology, Spanish Studies, Visual Arts
London Liberal Arts
Program Academics
|
Student Services
|
Requirements
|
Spring 2016 Dates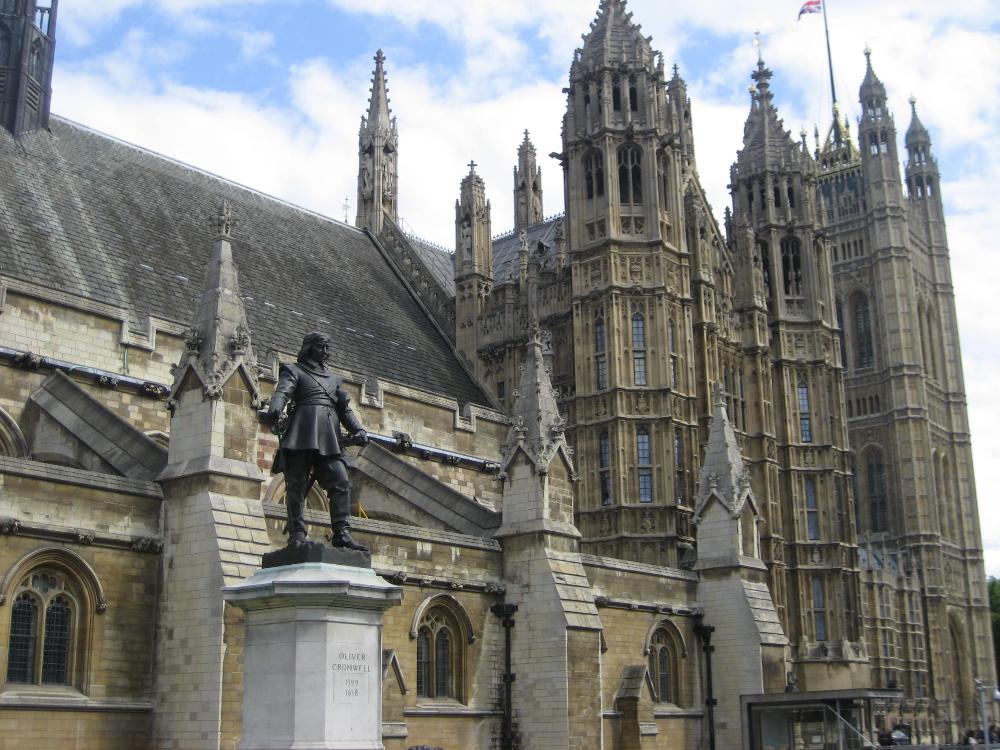 Located in the heart of one of the most vibrant and multicultural cities in the world, Fordham's London Centre in Kensington Square is the site of an exciting and innovative semester liberal arts program.

Fordham London Centre's Liberal Arts program centers on one 4–credit core course.
The remaining four courses will be chosen as follows: two courses from the offerings of the Fordham London Centre and two courses through direct enrollment in one of three local universities: Queen Mary, University of London; City University; or University of Westminster. Students must enroll in the equivalent of 15-18 US credits.

PHIL 4305: The City as Text: Modernity and Modernism in London (Spring 2016 Requirement)
Prof. Jennifer Gosetti
This course examines the relationship between theoretical ideas of modernity and the literature and art criticism of modernism, with London as its cultural geography. Philosophical descriptions of modernity and theories of Marx, Darwin and Freud serve as a basis for understanding transformations in human self-understanding that characterize the mid-19th to early 20th centuries. We examine modern literary works influenced by these transformations, all written and set in London, by Dickens, Kipling, Rhys, Woolf, Eliot, Yeats, and the modernist art critics Fry and Hulme. Interconnections between theory, literature, and art are emphasized through readings and excursions in the city. This course satisfies the Interdiciplinary Capstone Course (ICC) core requirement.
Students select 1 of the following London Centre courses:
(some of these courses may not be offered in your chosen semester)

SHAKESPEARE, LONDON, AND THE EARLY MODERN THEATRE
This course will introduce students to the early modern theater by way of the city of London, mediating between literary, cultural, and topographic viewpoints: in essence, the city will be our classroom. We will study and attend as many theatrical performances as possible. Students can approach the plays as a scholar, actor, director, costumer, set designer, or even graphic artist/communications major interested in Shakespeare and popular culture.
Our Scene is London.pdf
ARHI 3480 Art and Architecture in London
4 credits London is one of the most exciting cultural capitals of the world. Its museums, churches, and monuments will supply the rich resources for our art historical studies. While the emphasis will be upon the modern era from the late 18th century onward, earlier museum treasures and major architectural monuments will provide deep historical background for our study of the modern period. Class lectures will be supplemented by visits to The British Museum, the Courtauld Institute of Art, the National Gallery, Tate Britain, Tate Modern, the Victoria and Albert Museum, along with galleries and auction houses.
ARHI 3480 British Art and Architecture in London G Snell F15.pdf
This course satisfies the Fine Arts requirement of the Core Curriculum or the Modern or elective credit for the Art History Major. GSB students may fulfill the Fine Arts requirement by taking this course.

ENGL 2000 Texts & Contexts: British Writers
3 credits The introductory core course in English literature, which may include literature in translation, will teach the arts of literary interpretation by developing techniques of close reading, an appreciation of the relations among literary works and the contexts in which they are written and read, and an ability to write critically about the interplay between text and context. The sections of this course will offer students choices among thematic and topical foci, which will be specified in each section title and spelled out in the section's description. All sections will be offered in the eloquentia perfecta format, which emphasizes writing and presentation.
T&C Syllabus Adrian Chapman London-1.pdf
COMM 3416 United Kingdom and Irish Film
4 credits This course examines classic English film from the early Hitchcock period through the post-war literary adaptations of David Lean and Laurence Olivier, the Ealing comedies and the social realist films of Tony Richardson and Jack Clayton. Contemporary British film is represented in the work of Mike Leigh and Terrence Davies. Irish film is explored through the work of directors such as Neil Jordan, Jim Sheridan, Pat O'Connor, and others.
COMM3416 UK& Irish Film ASargeant F15.pdf
ENGL 3068 Writing London
4 credits London has always inspired fiction about outsiders finding their feet in this vast metropolis. This course invites participants to discover writers who have used London as a setting or as a controlling metaphor to create stories about immigrants and other outsiders. Students will get to know these different Londons through discussions, texts, lectures, readings and field trips to sites that will include Westminster Abbey, the Globe Theater and Brick Lane among others.
ENGL3068 Writing London A Mir F15.pdf
PHIL 3000 Philosophical Ethics
3 credits This course involves philosophical reflection on the major normative ethical theories underlying moral decision making in our everyday lives. The principal focus of the course is a systematic introduction to the main normative ethical theories, i.e., eudaimonism, natural law ethics, deontological ethics, utilitarianism, virtue ethics and feminism. The differences among these approaches will be illuminated by studying various moral issues. In each section of the course, at least halfthe readings will be selected from Aristotle and Kant. Each section will include writings by at least one contemporary figure. (Core Curriculum; Prerequisite: Philosophy of Human Nature (PHIL 1000).
Phil 3000 - Philosophical Ethics (Chris Malone).pdf

THEA 1100 Invitation to Theatre
3 credits An introduction to major plays, artists, and forms of theatre in various periods, and an investigation into the creative process of the theatre today. Videotapes of outstanding productions of plays past and present. Guest lecturers and discussions with directors and designers when possible. Attendance at selected professional productions at reduced rates. Cannot be used by theatre majors to fulfill art requirement. GSB students may fulfill Fine Arts requirement by taking this course.
THEA1100 Invitation to Theatre sec 1 RDD F15.pdf

POSC 3621: European Politics (Fall)
4 credits An introduction to the politics of contemporary Europe including analyses of political economy, democratic governance, and political integration.
POSC European Politics C Xena F15.pdf

HIST 3624: European Cities
MUSC 2031: Rock and Pop Music Since WWII
THEO 3000: Sacred Texts
Independent Study (2 credits)
The independent study requires permission from the faculty in residence.
GABELLI SCHOOL OF BUSINESS ELECTIVES
Students are eligible to enroll in one
course
offered in the GSB London program.
INTERNSHIP OPPORTUNITY

Learn more and apply for the semester internship program here.



BRITISH UNIVERSITIES
Direct enroll students select a university in which to take 2 courses (modules). These direct enroll courses (modules) offer students the experience of studying within the British system. For a listing of possible modules available at the various universities in London, please select the links below. Please note that 10 UK credits are generally equivalent to 3 credits at Fordham and 15 UK credits are generally equivalent to 4 credits at Fordham.

Please note that the British university academic calendar is different from Fordham's, so in the Spring semester particularly the term will begin earlier and end later than a semester at Fordham. For precise dates, please review the information at each university's link below. Students enrolled in courses at University of Westminster or Queen Mary University of London during the Spring 2016 term will pay supplemental housing fees ($1,150 at UW and $1,925 at QMU) due to an extended semester for examinations and class end dates.

City University
Queen Mary, University of London
University of Westminster
Fordham's London Centre is located at Heythrop College, part of the University of London, where students will meet British and foreign students studying a variety of subjects. Students may choose to eat on campus, where a cafeteria serves three meals a day at reasonable prices, or off campus in nearby Kensington Square, which is well known for its cafés, restaurants, and shops. The square was once home to the great philosopher John Stuart Mill; the Pre-Raphaelite painter Edward Burne-Jones; and the great actress and creator of Eliza Doolittle, Mrs. Patrick Campbell.

The United Kingdom—England, Scotland, Wales, and Northern Ireland—is a diverse place full of contrasts, featuring a wide range of landscapes and cultures. London, the largest city in Europe, is a bustling cosmopolitan center of astonishing variety and interest that a visitor could explore for months without turning over every stone. The other regions of the U.K. are fascinating for their own reasons, each with a unique personality and history.

While based at Fordham's London Centre, students may choose to venture from Cornwall in the far west to the Highlands and Islands of Scotland in the north. Cities such as Edinburgh, York, Durham, Chester, and Canterbury are reachable by an excellent rail network, as are areas of great natural beauty, such as the Lake District, the New Forest, and North Wales. And it's only a quick trip to Dublin and the Republic of Ireland.
HOUSING
Students are housed in shared student residences in residential areas in Zone 1 or 2, both of which offer a commute by public transport to classes at the London Centre and your chosen host university. The residences have self-catering facilities with a shared lounge. All of our housing is centrally located within London, in areas with shops and transportation and within reach of city attractions.

*Students enrolled in courses at University of Westminster or Queen Mary University of London during the Spring 2016 term will pay supplemental housing fees ($1,150 at UW and $1,925 at QMU) due to an extended semester for examinations and class end dates.
ORIENTATION
The London experience begins with a comprehensive orientation that acquaints students with health, housing, travel, academic, and safety information.
STUDY TOURS
To enhance the students' classroom experience, the program includes study tours. These activities will be related to the required foundational course.
Fordham's London Liberal Arts program is open to undergraduates from any discipline currently seeking a degree at a US institution.

Applicants should be Juniors during the term they will study abroad, have completed significant coursework in their major fields of study, have a GPA of 3.0 or higher, and a clear disciplinary record.

Students who will be second semester sophomores during the term they will be abroad and who otherwise meet the requirements may apply to study in the "Sophomore Liberal Arts Program."

All applicants must complete the online Fordham Study Abroad Application by clicking on the "Apply Now" Button above.

We welcome applicants from colleges and universities outside of Fordham University.

(Sophomores participating in the London Liberal Arts program should follow the dates found on the
Sophomore Liberal Arts page
.)
Arrival - Wednesday, January 6th (Students
must
arrive on January 6th
before
10:30AM)
Fordham Orientation - Thursday, January 7th
UK University Orientation - Friday, January 8th
Fordham Classes Begin - Monday, January 11th
Queen Mary University Classes Begin - Monday, January 11th
Westminster Classes Begin - Monday, January 18th
City University Classes Begin - Monday, January 25th
Fordham Classes End - Friday, April 29th
City University Classes End - Friday, April 29th
Fordham students who attend City University move-out on Saturday, April 30th (Students
must
vacate their housing on this day.)
Westminster Classes End - Friday, May 27th
Fordham students who attend Westminster move-out on Saturday, May 28th (Students
must
vacate their housing on this day.)
Queen Mary Classes End - Friday, June 10th
Fordham students who attend Queens Mary Students move-out on Saturday, June 11th (Students
must
vacate their housing on this day.)
What impact has your study abroad experience had on your life and studies?
An incredible amount. Not only has it changed my outlook on learning, but on my career and my life. I was very hestitant before going into it but now could not imagine my life if I didn't!
— Daniel Murphy, Fall 2014
Read what others have said about this program.
Term

Year

App Deadline

Decision Date

Start Date

End Date

Spring

2016

10/01/2015 **

Rolling Admission

01/06/2016

06/11/2016

NOTE: The end dates vary depending on the partner university that a student attends. Please see the text above for more detailed information.

Fall

2016

03/01/2016 **

Rolling Admission

TBA

TBA


** Indicates rolling admission application process. Applicants will be immediately notified of acceptance into this program and be able to complete post-decision materials prior to the term's application deadline.

Indicates that deadline has passed